Dragon's Intermediate Level I
All system are substantiated with winning averages and statistically proven with winning average.

Detail of winning/losses units, percentages, winning averages per shoe etc from 35K hands played.

No competitors will ever show you all these detailed results.

It will blows you apart once you see the detailed results.

Here are the detailed results from our 1989 developed system and modified with enhancement in January 2014 to achieves higher winning averages 4.5 units compared to the original version that averages 1 units.

The capital requirements is 50 units and gross 4.5 units per shoe.

Statistics for Intermediate Level I:

• Capital requirements are 50 units


• Out of 500 shoes played 29705 and we played from first to last hand of the shoe.

• Winning 14804 hands and hit rate is 50%

• Winning percentages is 56.6%

• Winning ranged from 50 to 62 units is 4%


• Highest losses of 50 units is 0.2%


• Gross winnings average 4.5 units per shoe

• Net win is 3 units per shoe



Weighing pros n cons, we decided to price the Intermediate Level I for $3999.00 (MSRP) and wef November 1st to December 1st 2014 it will be $2500.00

Good Luck to everyone and we encourages all to buys during this promotional period of 30 days wef November 1st to December 1st 2014.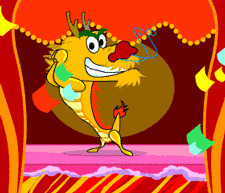 Dragon's Intermediate Level I
| | | | |
| --- | --- | --- | --- |
| UNIT WINS | #SHOES | PERCENT | NET % WINS |
| 1 TO 5 | 33 | 6.6 | 6.6 |
| 6 TO 10 | 40 | 8 | 14.6 |
| 11 TO 15 | 37 | 7 | 21.6 |
| 15 TO 20 | 27 | 5.4 | 27 |
| 21 TO 25 | 33 | 7 | 34 |
| 26 TO 30 | 26 | 5 | 39 |
| 31 TO 35 | 17 | 3 | 42 |
| 36 TO 40 | 21 | 4.2 | 46.2 |
| 41 TO 45 | 22 | 4.4 | 50.6 |
| 46 TO 50 | 10 | 2 | 52.6 |
| 51 TO 55 | 8 | 1.6 | 54.2 |
| 56 TO 62 | 10 | 2 | 56.2% Winnings(56.6) |
| Shoes wins | 283 | | |
| Unit loss | | | Net % losses |
| 1 TO 5 | 22 | 4.4 | 4.4 |
| 6 TO 10 | 30 | 6 | 10.4 |
| 11 TO 15 | 35 | 7 | 17.4 |
| 16 TO 20 | 27 | 5 | 22.4 |
| 21 TO 25 | 31 | 6 | 28.4 |
| 26 TO 30 | 31 | 6 | 34.4 |
| 31 TO 35 | 14 | 3 | 37.4 |
| 36 TO 40 | 15 | 3 | 40.4 |
| 41 TO 45 | 6 | 1.2 | 41.6 |
| 46 TO 50 | 5 | 1 | 42.6 Losses(43.4%) |
| Shoes losses | 217 | | |